Custom Glow in the Dark Pencils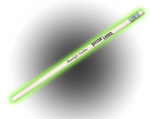 Nite Glow Pencils
Barrel and Eraser Glow in the Dark

No screen or logo charges
Pricing Includes: a one-color silk-screened imprint up to five lines of copy.

Item Colors: Nite Glow

Imprint Area: 3/4" H x 4-1/2" W

Imprint Colors: Black, Orange, Brown, Red, Lt. Blue, Med. Blue, Dk. Blue, Lt. Green, Dk. Green, Maroon, Purple, Teal, Yellow, Gold, Silver.

Pencil Sharpening: $20.00/M or less. May cause lead dust in carton.

Setup: FREE!

Multi-Color Imprint: Not available.

Ink Color Match: $40.00 per color, per order. Please supply PMS number for reference. Factory cannot guarantee exact match on colored surfaces.

Additional Artwork: $50.00 per hour.

Change Copy: $25.00 per change.

Change Ink: $25.00 per change.

Proof: E-Proofs $10.00 each. Paper proofs $12.50 each. Product proofs $25.00 each, per color. Artwork charges are additional if required.

Less Than Minimum: $40.00 Absolute minimum is one-half of the lowest catalog quantity.

Packaging: 250 per box, unless 144 specified. 12 pack cardboard band available (4-1/2" long), add $16.00/M or less.

Weight: 13 lbs./M.

Fuel Surcharge: (In addition to freight charges) There is a surcharge of 8.5% on Ground Shipments and a 28% on Air Shipments.
C-20305
500
1000
2500
5000
10000
Standard
0.44
0.344
0.307
0.271
0.261
Two Day
0.56
0.433
0.387
0.342
0.332
Feel free to browse the products on this website and give us a call at 800-915-3535! Our friendly customer service representatives are ready to help you get the promotional pencils and pens that you need to make your next advertising campaing a huge success! Want more information? Click the button below to request a free catalog on some of the products we offer!