Mood Pencils - Custom Promotional Mood Pencils
Custom printed promotional mood pens can be a fun and attractive promotional product for any company! Easy to pass out and available at a low cost, these unique promotional pencils change color with heat and can be passed out anywhere!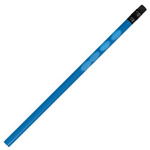 Pencils-Heat Change, Mood
Available in 4 different colors. 
Sharpening: Sharpening Not Available
Imprint Area: 3/4" x 4"
Standard Imprint Colors: Black, Red 485, Warm Red, Rubine Red, Rhodamine Red, Maroon 208, Orange 021, Medium Yellow 116, Pantone Green, Green 347, Green 348, Dark Green 3435, Teal 320, Process Blue, Reflex Blue, Dark Blue 281, Metallic Gold, Metallic Silver
Product Colors: Magenta, Green, Blue, Select one...
Item No.
Description
500
1000
2500
5000
10000
C-HCPS
Heat Change Mood Pencil
0.293
0.265
0.24
0.23
0.225
Feel free to browse the products on this website and give us a call at 800-915-3535! Our friendly customer service representatives are ready to help you get the promotional pencils and pens that you need to make your next advertising camping a huge success! Want more information? Click the button below to request a free catalog on some of the products we offer!